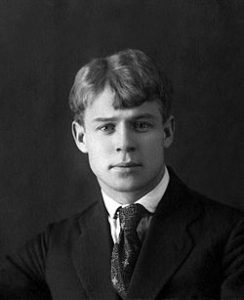 Yesenin was born in a typical Russian village Konstantinovo (Ryazan county) 21 September 1895 g.
AT 1904 Serge, the boy went to a local school, five years later he continued his studies in the Theological School. At seventeen (1912 year) Nest Yesenins peasants left the young talent, which was given to become a famous personality. Future genius worked in the Moscow printing house, was an assistant at the butcher. AT 1913 he entered the University of. One year later, he published his debut creation (1914 year).
AT 1915 Yesenin was moved to the capital and started a friendship with many famous literary figures. In a year, in Petrograd, he was called up for military service. Help the train for transportation of the wounded did not prevent creativity: at 1916 year saw the publication of his debut collection "Radunica".
AT 1917 the poet went to the altar with Zina Reich. In his biography there were many women and passion, Three legitimate marriage. AT 1918 he met with Anatoly Mariengof, considered a writer-Imagist. Due imagism out mass literary collections, the most famous – "Moscow Taverns" (1924 year).
AT 1921 was a friend of the poet Yakov Blyumkin invited on a tour of Central Asia. After a trip to the heart of the writer broke the dancer Isadora Duncan. He met with her a few months, and then they legalized relationship. After the wedding, they went to a honeymoon for Europe. Long tour ended in 1923 year, in USA. But their marriage is not destined to be a long and strong.
Actively engaged in publishing and selling books, I traveled, often in Leningrad. I adored Caucasus, I visited Azerbaijan. early autumn 1925 year Yesenin married Sophia Tolstoy – granddaughter talented, grandiose Russian writer. The last months of his life so brief accompanied by drunkenness and fights, he was not on good terms with the law. This topic is often featured in the poems of genius.
His mental health was concerned about the country's leaders. December 1925 , he voluntarily left the hospital, He withdrew all his savings in a savings bank, He settled in the hotel "Angleter". 28 December his body was found dead, the death of the poet overgrown versions, among which the most real – suicide.

Author digitizing material